EVENTS
ROSE COMES A CALLING

Would you like to sponsor a charitable event with Rose Percy? This is how it works. First, one must contact Rose. She will check her calendar and if she is free, and the charitable event planned falls into her mission statement, she will "be there with bells on." Rose's only requirement is that she perform her duty with organizations that exemplify the most diligent work ethic and the highest standards. No fee is due Rose, but she must have her travel expenses entirely covered, along with her insurance costs.

Rose insists that all funds raised with her assistance be given to charitable causes, with the promise that half of the net funds raised be designated to veterans of all wars. This requirement, says Rose, is non-negotiable. Remaining monies can be distributed to charitable causes selected by the host organization, but distributed with no, or very limited administrative costs. The recipients must be approved by the Rose Percy Project, but the actual distribution is left to the host sponsor, as they know the greatest need for their community.

Rose is not a political figure and does not have an affiliation with any political party. First, Rose considers herself an American, and she does not make appearances at political events. At Rose's events, all whom pledge allegiance to the flag of the United States of America will be welcomed, and those who are not citizens are asked to respect our flag as well.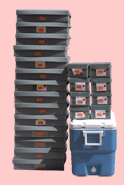 MISS ROSE PERCY RESIDES….
We are often asked exactly where Rose Percy lives, and all we can say is that she has a very fine home in which to rest between engagements.  Like many public figures, she does appreciate her privacy, but when she is needed, she will be placed in her Coleman cooler and off she will go!